×
Note: Please purchase your ABSAF pass at least 24 hours before use.
Welcome to ABSAF!
ABSAF, the Acton-Boxborough Student Activities Fund, is a 501c(3) non-profit, charitable organization that supports extracurricular activities at the Acton-Boxborough Regional Schools. ABSAF members believe that extracurricular activities help to develop well-rounded children with healthy self-esteem. Whether students are interested in music, sports, academic teams, theater, speech and debate or community service, they should have the opportunity to participate in programs that provide constructive and creative outlets. Since its inception in 1981, ABSAF has donated well over $1,000,000 to the Acton-Boxborough Regional Schools.
Newsflash!
ABSAF is excited to announce that the $50,000 recently donated by Middlesex Savings Bank will go towards the purchase of a new scoreboard in the High School Field House and new stage curtains for the High School auditorium. Since 1981, it's been ABSAF's mission to support our talented students in extracurricular activities to help create a healthy educational and social environment for our students. This donation allows our school to make these significant upgrades and we are so grateful to Middlesex Savings Bank for their generosity to make this possible. Thank you for being right there with us Middlesex Savings Bank!
Click HERE for a copy of the Superintendent's Letter to ABSAF and Middlesex Bank thanking Middlesex for the generous donation and detailing the purchase of the scoreboard and stage curtains.
About ABSAF
ABSAF board members believe extracurricular activities are vital in developing well-rounded students and provide a way for students to feel connected to both their peers and the school. Members also believe an entire community benefits when its youth are engaged in constructive activities. The goal is to offer each student at least one channel for his or her interests or talents, and over 85% of students currently participate.
ABSAF was able to prevent the need for activity fees until 1993, at which time they became necessary. However, ABSAF contributions are still critical to maintain our quality extracurricular programs. Without ABSAF's donations, activity fees would be higher and/or some activities would be eliminated.
ABSAF has consistently received generous, broad-based support from members of the Acton-Boxborough community since it was established. ABSAF conducts both an annual mail campaign and a student phonathon in the fall. Contributions are greatly appreciated at any time during the year.
ABSAF contributions support athletic teams (Junior High to Varsity), academic teams (Math Team, Science Team, Speech and Debate Team, and Academic Decathlon Team), performing arts groups (Band, Chorus, and Theater), and community service at ABRHS and RJ Grey. Some examples of how ABSAF funds have been used include: donations to Proscenium Circus (the High School Theatre group), purchase of band uniforms and instruments, new stage curtains and sound system for the Junior High, supplies and equipment for all athletic teams, study guides and league dues for academic teams, athletic uniforms, and transportation to events for all the groups mentioned above. ABSAF was able to eliminate the need for activity fees until 1993. Today, ABSAF reduces the cost of activity fees. Without ABSAF, fees would be higher and some activities would not be possible.
ABSAF's current Board of Directors is made up of members of the community, students, and representatives from the Acton-Boxborough Regional School Administration.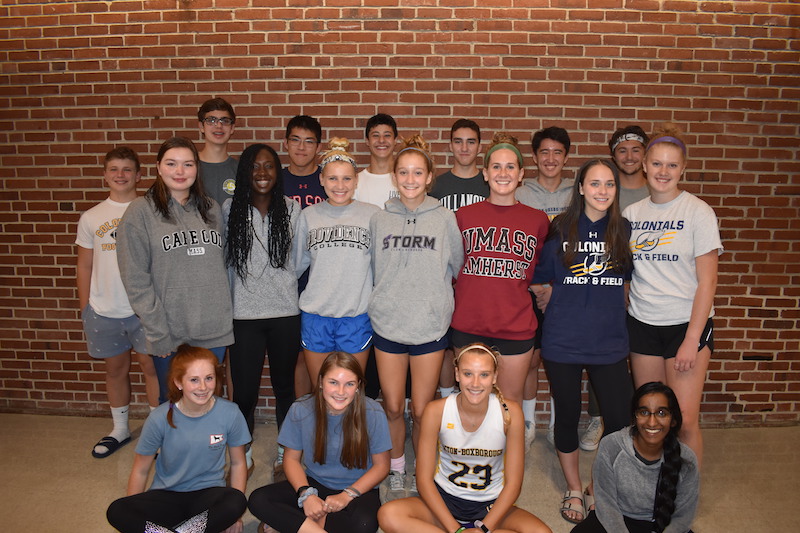 Our Members
Executive Board
President
Linda Ahern
Vice President
Jim Kirkman
Secretary
Karen Collins
Treasurer
Tracey Driscoll
Data and Communications
Craig Roach
Board Members
Marie Altieri
Chris Brolin
Flemming Christensen
Casey Eaton
Todd Fenniman
Heather Harer
Shelly Jaros
Chris Kniker
Bridget Matz
Shelley Moore
Brian O'Connor
Cindy Richardson
Claudine Sahagian
Lucinda Sears
Leonard Streeter
Kelley Vialle
Student Board Members
Sam Ahern
Ben Alcaide
Sebastian Christensen
Ella Cormier
Hannah Dennison
Colin Eaton
Grace Fitzgerald
Ethan Geary
Rishikesh Girish
Jackson Hamilton
Eliza Holtz
Kubi Issah
Lizzie Kirkman
Hannah Kniker
Zee Kwong
Kate Maylander
Bernice Mohanadhas
Ryley Mosher
Irvati Mukherjee
Emma O'Connor
Jack Pearson
Jordan Pelletier
Summer Weldman
Ex Officers
Larry Dorey
Peter Light
Steve Martin
Andrew Shen
How Your Donations are Spent
The following PDF files are provided by AB's Superintendent and show the yearly breakdown of ABSAF funds that were distributed to the High School and Junior High Schools among Sports, Clubs, and the Performing Arts. Your generous support allows ABSAF to make substantial financial donations to ABRHS and RJ Grey in support of extracurricular student activities. Through this continued support, ABSAF has donated well over $1,000,000 to the regional school district.
Passholder Benefits
An ABSAF Pass entitles you and your immediate family free admission to most Acton-Boxborough home extracurricular activities during the current academic school year.
ABSAF Pass holders are also entitled to two tickets to the RJ Grey Musical and two tickets to a single performance of each of the high school's Proscenium Circus' (PC) mainstage productions. This year's performances will include The Hunchback of Notre Dame, The Book of Everything, and A Midsummer Night's Dream.
To take advantage of your free tickets to the various Proscenium Circus performances, Pass holders should reserve tickets through PC's online reservation process at ABDrama.org. The online reservation process closes at midnight on the Monday prior to each show. ABSAF pass holders may not reserve online past this deadline. If tickets are still available after the deadline, you may claim your two tickets at the door with your ABSAF pass. ABSAF passes are not accepted at the 24-Hour Class Plays or the Festival.
Please pay close attention to the procedures and the deadlines for the respective plays and musicals as they may vary for the High School and RJ Grey.